Hello there!
Sorry about being MIA but I have had to take a vacation!!! I know. Don't you feel sorry for me?! We had to go to Florida and we left the day after there was a blogger meet up in Florida! Oh well, I was on the gulf side anyway! Anyhoo...I am linking up to join this awesome book study that several teachers from blogs are doing!
Have you read
the Daily 5
?
I am just beginning. I've had the book for over a year but now I'm finally digging in! To begin, you need to get the book. Then read Chapter 1 and go to Mel D's blog.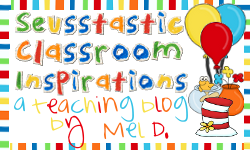 Here are a few framing questions to ponder about Chapter One:
1.
On pages 4-6, the authors present two different pictures of their classrooms. In thinking about and reflecting on your own practice, how would you characterize your literacy block? Does it look more like the first or second scenario, or is it somewhere in between? How will you change it?
My classroom probably is a combination of the two. I KNOW my stations/centers need work, but I feel like the small group instruction goes very well so I've had the internal debate for years about how I feel about their independent work at stations. A few years, I made them keep journals and they never went well because I never followed through or kept up with them. It was just too much. Now I have felt like, I know time could be better spent in their stations, but since small group instruction goes pretty well and they meet with a teacher everyday, I kind of don't care am not able to follow up with their independent work. :) I hope using D5 will prove to me that those other kids should be using their time a little more wisely. Don't get me wrong, I think their stations went well (they were reading, writing, listening to books on cd, etc.) but I think the work could be more purposeful and driven by their instructional level.
2. The typical teacher is very busy having students do lots of different activities. How is what you are having students do now in your classroom creating quality readers and writers?
Like I said, the small group guided reading instruction has been going well and my students always seem to feel much better about their own reading abilities by the time they are done with first grade. I also have used writer's workshop in my room for years and for the most part, they love writing their stories, sharing and publishing them. But I also had a really good class last year. I'm expecting next year's group to be a little more....challenging.
3.
What sets the Daily 5 structure apart from what you are doing in your classroom?
Having only read Chapter one, I'm not completely sure yet, but it sounds very different from my current classroom. My students have always gone to stations and they did not have a choice what station they had to do, I made that decision for them. I put my students in groups based on their ability & reading levels. I am excited to continue learning to see how to implement the D5!
Okay, so now you need to link up at Mel D's blog, leave me a comment, and read chapter 2. Here are your guiding questions for next week as you read chapter 2...
1 .What goals do you have for your classroom as you work to implement the principles and foundations of the Daily 5 discussed in chapter 2? What support do you need to do this?
2. What stands out as the most significant aspects of this chapter?
3. How do the foundational principles of the Daily 5 structure (trust, choice, community, sense of urgency, and stamina), align with your beliefs that support your teaching strategies and the decisions that you make about student learning?