Hello friends! I hope you had a great Monday! I spent my Monday in SIOP training and that's all I have to say about that.
I'm linking up with the gals at What the Teacher Wants for the
I'm currently using a combination of things in my room. I am using the ever popular clip chart. Surprisingly, I had a couple of parents say they didn't like the color chart because their child just didn't feel good about himself if he got below green.........Uh...... Should I mention that her son is THE behavior issue in my room? No? Well, then I won't.
So, I am using the cip chart and I'm also using the now, ever popular "Golden Tickets" that Kristin at A Teeny Tiny Teacher posted about.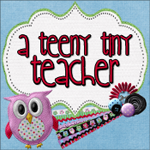 The students get golden tickets (yellow construction paper strips) if they do good things throughout the day and at the end of the day, if they are on green, they get one golden ticket. The next color up is pink, so they get two tickets if they're on that and so on up the chart. If they are below green, they have to pay me a golden ticket, which no one ever wants to do. At the end of the week, whoever has the most golden tickets gets to go to a "Free Station" and they get to choose first. I start the timer for about 15 mins and the kids with the most tickets get to go to their station they choose first. And I collect all their tickets. By the time I get to the last few students, sadly, most of our free station time is up AND they just have to take whatever station is left open. They do not appreciate this but hopefully they'll work harder to earn the tickets in the next week. I've only had this going for a couple of weeks and I'm anxious to see if it motivates those challenging kiddos. I'm keeping my fingers crossed.
Thanks for stopping by. On a sad note, I just want to say to my friend Sally who lost her sweet Mom today that I love you and I know Miss Mary is having a ball up in heaven, but it's so hard to see her go.